Where Image Taking and Competition Combine With Learning and Cinematic Greatness.


Truly a unique event for underwater photographers with a competitive spirit, The Monterey Shootout is presented each year by the Northern California Underwater Photographers Society and Backscatter Underwater Video & Photo.

In a 32 hour window, in a designated diving area, contestants of all skill levels have an equal playing field to bag their best shots in photo and/or video, edit them, then enter into the contest for travel awards to a variety of exotic locales across the globe, the latest underwater imaging gear from top manufacturers or scuba diving accessories from the industry's best. During this long weekend, seminars are offered for those just getting started in underwater photography or videography. And for the more advanced shooters, topics on imaging techniques and post production are popular amongst the group. The highlight of the Shootout Weekend, by far, is the Monterey Underwater Film Festival, where world-renowned film makers showcase their imagery with engaging commentary to a full-house audience at the Golden State Theatre.


For most of us, underwater photography is a hobby, a passionate hobby that we devote our spare time and spare pennies toward. Sitting in on a seminar from some of the top pros in the industry is a great opportunity to learn and ask questions in a small group setting. If you're just getting started, classes that cover the basics given by Jim Decker on photography and Mary Lynn Price on videography are invaluable, to begin with good habits. Each year, the Shootout organizers strive to offer seminars that are not only interesting, but presented by pros that are current on the underwater imaging scene. This year, Ethan Daniels presented his views on underwater image making, showing us how often-times simple is more compelling and engaging to your audience. And new for 2014, we asked Shootout participants to submit their images for a critique by the pros. Ethan Daniels teamed up with Jason Bradley to give their thoughts and tips on pleasing compositions and what the pros look for when judging a photo competition. The bottom line is this… like anything else, underwater photography is something you have to practice and apply what you've learned to see improvement over time. So keep diving, shooting and learning!



This year's line-up of presenters is quite possibly the BEST assemblage of underwater film makers ever! Once again held at the historic Golden State Theatre to a sold-out crowd of enthusiastic ocean lovers, four cinematographers wowed and entertained the crowd with rich history, stunning visuals and funny anecdotes. Erick Higuera kicked off the show with clips from his film, BAJA, of big animal encounters around the Socorro Islands. Brazil's most famous underwater and wildlife photographer, Cristian Dimitrius, shared his images of anacondas, sloths, river dolphins and other jungle animals while reminding us that being on-assignment is not 5-star luxury. The preeminent film maker of the Arctic, Adam Ravetch, has extensively filmed walruses and polar bears. His recent film, ICE BEAR, depicts the life of a polar bear as it adjusts to a warming climate. Adam shared his uses of creative camera work to obtain the jaw-dropping footage from this film. Honored, thrilled and humbled aptly describes the audience's feelings toward the final presenter, Dr. Sylvia Earle. She needs no introduction to anyone who's a lover of the ocean. Her message of hope for our future generations will continue to resonate with all of us, and inspire each of us to go forth in her example.

Months of planning and organization go into executing The Monterey Shootout & Underwater Film Festival. From the event organizers, to the presenters and judges, and everyone else who volunteers their time to make this event a success… A HUGE THANK YOU FOR YOUR TIME AND EFFORT! And to our overly generous sponsors whom we could not do this without… Thank you for supporting Monterey diving, underwater image-making and The Monterey Shootout!


The Monterey Shootout is a 32 hour competition for underwater photographers and videographers of all skill levels to dive, shoot, edit and enter their images into the competition for some pretty awesome prizes. While cold-water diving is not for the feint of heart, the strict time table adds another level of challenges and complexity to this unique event. Based on a point-awarding system that spans across all skill levels, the winners can choose their one favorite prize from the pool of exotic trips, underwater photo gear or dive accessories. This year proved that it's not just the advanced shooters who sweep the contest categories, as a newer shooter racked up the points across several photo categories, enabling her to be the top prize winner! And as Berkley White says, "We are all winners, some of us are just prize challenged!". Congratulations to all who participated in the 2014 Monterey Shootout!

This years photo judges were Erick Higuera, Cristian Dimitrius and Adam Ravetch. On the video side, snapshots and montages were judged by Mary Lynn Price, Jim Decker and Joel Penner, with Berkley White presiding over all judging. Judging is no easy task, especially when there's a lot of great imagery to pick from. Sometimes the judges are in complete, copacetic agreement. Other times, judging can escalate from arguing for their favorite to making another see reason! All-in-all, the photo judges honed their picks down to the finalists from nearly 300 submissions, while the video judges had the most entries to date of snapshots and montages combined. We look forward to seeing the beautiful imagery of Monterey underwater at next year's Shootout!

Below are the winning photos and videos from the 2014 Monterey Shootout.


WINNERS - Advanced WIDE ANGLE TRADITIONAL
PRIZES FOR ADVANCED WIDE ANGLE TRADITIONAL




WINNERS - Advanced WIDE ANGLE UNRESTRICTED
PRIZES FOR ADVANCED WIDE ANGLE UNRESTRICTED




WINNERS - Advanced MACRO Traditional
PRIZES FOR ADVANCED MACRO TRADITIONAL

WINNERS - Advanced MACRO Unrestricted
PRIZES FOR ADVANCED MACRO UNRESTRICTED

WINNERS - INTERMEDIATE WIDE ANGLE TRADITIONAL
PRIZES FOR INTERMEDIATE WIDE ANGLE TRADITIONAL

WINNERS - INTERMEDIATE WIDE ANGLE UNRESTRICTED
PRIZES FOR INTERMEDIATE WIDE ANGLE UNRESTRICTED

WINNERS - INTERMEDIATE MACRO Traditional
PRIZES FOR INTERMEDIATE MACRO TRADITIONAL




WINNERS - Intermediate MACRO Unrestricted
PRIZES FOR INTERMEDIATE MACRO UNRESTRICTED

WINNERS - BeginneR WIDE ANGLE TRADITIONAL
PRIZES FOR BEGINNER WIDE ANGLE TRADITIONAL

WINNERS - BEGINNGER WIDE ANGLE UNRESTRICTED
PRIZES FOR BEGINNER WIDE ANGLE UNRESTRICTED

WINNERS - BEGINNGER MACRO TRADITIONAL
PRIZES FOR BEGINNER WIDE MACRO TRADITIONAL

WINNERS - BEGINNGER MACRO UNRESTRICTED
PRIZES FOR BEGINNER MACRO UNRESTRICTED

1st Place - Mike Costa

2nd Place - Brad Brown

3rd Place - Derek Emmett

Honorable Mention 1 - Joe Platko

PRIZES FOR VIDEO MONTAGE





1st Place - Mike Costa

2nd Place - Jeffrey Honda

3rd Place - Brad Brown

Honorable Mention 1 - Lauren Tabata

PRIZES FOR SNAPSHOT WIDE ANGLE


1st Place - Joe Platko

2nd Place - Kip Nead

3rd Place -

Brad Brown


Honorable Mention 1 - Jeffrey Honda

PRIZES FOR SNAPSHOT MACRO



2014 Monterey Shootout Winners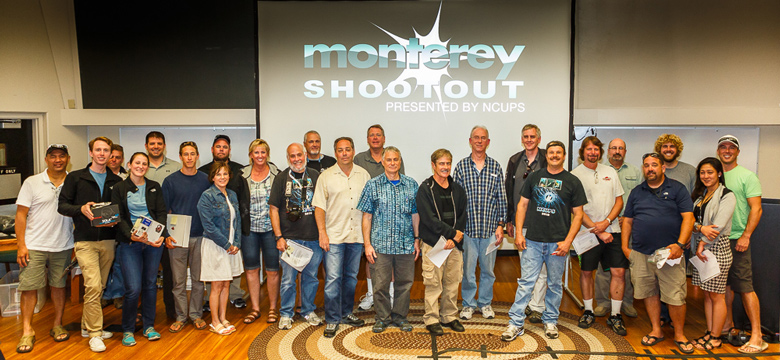 Sylvia Earle

Sylvia Earle needs no introduction to any ocean lover.  She is the pioneer of the deep oceans and has spent her life uncovering the mysteries of the inky depths.  Sylvia will share with us her life story.  Not just how she became the premiere female explorer in a world dominated by men, but how she pushed the envelope of deep sea science and the story it tells us today for the future of the oceans.  Join us for an amazing opportunity to hear tales from decades beneath the waves.

Sylvia Earle, National Geographic Explorer-in-Residence and Rosemaryand Roger Enrico Chair for Ocean Exploration, is an oceanographer, founder of Mission Blue, SEAlliance and Deep Ocean Exploration and Research. She is also the Council Chair of the Harte Research Institute for Gulf of MexicoStudies, former chief scientist of NOAA and a founding Ocean Elder. Earle has been called "Her Deepness" by the New York Times, "LivingLegend" by the Library of Congress and Time magazine's first "Hero for the Planet." She has led over 100 expeditions and logged more than 7,000 hours underwater. She has authored 200 publications and lecturedin 80 countries. A graduate of Florida State University with an M.S.and Ph.D. from Duke University and 26 honorary doctorates, she serves on various boards and commissions. Her more than 100 honors include the 2013 National Geographic Hubbard Medal, 2009 TED Prize,Netherlands Order of the Golden Ark and medals from the ExplorersClub, the Royal Geographical Society, the Lindbergh Foundation and the Dominican Republic.
Adam Ravitch

Adam Ravetch is the preeminent cinematographer of extreme life in and around the Arctic circle. From polar bears to walrus, Adam's camera has created multiple Emmy award winning films for IMAX, BBC, PBS, Universal Pictures, and National Geographic. Working in sub zero conditions not only destroys your camera equipment, but will make you question your own survival. Tonight Adam will share his most spectacular achievements of exploring and surviving the Arctic wilderness with his camera.

Adam Ravetch has spent over 20 years as a polar explorer and Emmy Award winning cinematographer and filmmaker. His film credits include Ice Bear 3D (Universal Pictures), Frozen Planet (BBC), Wonders of the Arctic 3D (IMAX), To The Artic 3D (IMAX), Planet Earth (BBC), Earth (Disney), Arctic Tale (National Geographic), Toothwalkers (PBS), Tooth Titans (National Geographic), Arctic Oasis (National Geographic), Ultimate Explorer: On thin Ice (National Geographic), Battle of the Artic (National Geographic), Untamed America (BBC). With a view at helping to preserve the Arctic, Ravetch founded The Arctic Exploration Fund (AEF), an organization that seeks to discover and film the responses of Arctic wildlife reacting to the rapid environmental changes taking place in the North.
Cristian Dimitrius

Cristian Dimitrius has captured the wild jungles like no other underwater filmmaker.  As a native Brazilian, Cristian has spent his life photographing the wild waterways of South America for BBC, National Geographic, and Discovery.  While Cristian regularly swims with sharks, his cinematography specializes in swimming alligators, anacondas, piranhas, and spiders of the Amazon and the worlds jungles.  Tonight Cristian will share his Emmy Award winning footage of rarely seen environments beneath the waters of the jungle and behind the scene footage of the bug filled, and at times, inhospitable conditions required to capture such amazing images.

Cristian Dimitrius is a Brazilian Emmy Award Winning cinematographer, photographer, biologist and television presenter specializing in wildlife and natural history films around the world. On land or underwater, from ants to whales, Cristian's innovative cinematography and unorthodox camera techniques are helping revolutionize the way people see and perceive wildlife. Cristian's film credits include Untamed Americas (National Geographic), Animal Kingdom (National Geographic), Secret Brazil (National Geographic), Jaguar - One Strike Kill (National Geographic), Secret Life of Predators (National Geographic), Wild Brazil (BBC), Brazil - A Natual History (National Geographic), Urban Jungle (National Geographic), River Monsters (Discovery/Animal Planet).
Erick Higuera

Erick Higuera has spent years swimming with great white sharks, humpback whales, giant manta rays, dolphins, and schools of hammerheads sharks in the remote waters off Baja, Mexico. Tonight Erick will share his greatest moments swimming with these giants of Baja and also give us a look behind the scenes of a life of a filmmaker and conservationist who has dedicated his life to the sea.

Erick Higuera is a marine biologist and underwater filmmaker that grew up in south-central Mexico with a deep passion for the ocean. Erick has spent many years as a scuba instructor and a dive guide with the Solmar V exploring the waters of Guadalupe Island, the Sea of Cortes, the Revillagigedo Islands (better known as Socorro's Islands) and the Mexican Pacific, filming and photographing great white sharks, whales, dolphins, sailfish and other spectacles in the deep blue off Mexico's shores. During all this time he has seen how shark and manta populations in the Sea of Cortes have been depleted due to uncontrolled illegal fishing and his film projects are now getting local and political acclaim in Mexico to help educate fishermen and school children on the amazing value of their oceans. Erick has been awarded with the Stan Waterman Award by Beneath The Sea 2013, Best in Cinematography Award by Beneath The Waves Film Festival 2013, Howard Hall Award by Ocean Geographic Pictures of The Year 2013 and with the 1st Place CIMASUB 2013 by the 37th Donostia-San Sebastian International Submarine Film Festival for his visually stunning short film entitled Baja. Since 2006 Erick has been conducting his own research on photo identification, site fidelity, abundance estimate and movements patterns of the Pacific Giant Mantas (Manta birostris) in the Revillagigedo's Archipelago.
Ethan Daniels



Ethan Daniels is a freelance marine photojournalist and dive guide currently based in Northern California. Annual travels take him all over the planet, from the rich, temperate waters of the northern Atlantic and the eastern Pacific, to the warm, diverse Coral Triangle and Caribbean Sea. Having spent his youth on the shores of Cape Cod, Ethan became fascinated with the bizarre marine life that thrives beneath the water line. He studied biology at Bucknell University and completed graduate school at the University of Guam Marine Laboratory in 1999, focusing on the behavioral ecology of reef fishes. Ethan spent nine years living in Micronesia, studying and photographing the region's unique marine habitats, flora and fauna. Favoring parts of the world that are off-the-beaten-track, he currently combines his passions for natural history and photography to guide, write, and run photographic workshops. Ethan's latest work can be found at OceanStockImages.com and his first solo-authored book, Under Cape Cod Waters, published in 2010 by Union Park Press, is now on bookshelves and available online. His second book, Coral Triangle Seascapes, was published by Asian Geographic in 2012. Ethan's latest endeavor is his first ebook, Marine Life and Natural History of the Coral Triangle, with co-author and biologist Lee Goldman, which is due out October 2014.
Jason Bradley

Jason is a nature and underwater photographer based in Monterey, California and is happiest photographing and telling stories of aquatic ecosystems. In nature or in the studio, Jason is a self-taught photographer with a dynamic portfolio consisting of land and seascapes, wildlife, portraiture, science, conservation issues, adventure sports, and still life's in a myriad of styles.

Jason runs Bradley Photographic Workshops, providing field and classroom seminars for photographers, and he's partnered with Wetpixel.com to lead many of their photo expeditions around the world for underwater photographers. Jason's seminars instruct on digital photo techniques, retouching and post processing, digital asset management, digital printing, and he specializes in Adobe software such as Lightroom and Photoshop.

Jason also operates Bradley Photographic Print Services offering archival pigment ink prints for photographers along with file processing and retouching, ICC profiles, and consulting. Furthermore he serves on the Education Committee for the Center for Photographic Art.
Berkley White



Berkley White is the founder of Backscatter Underwater Video & Photo which has grown to be the largest underwater photographic equipment supplier is the USA. Since 1994, Backscatter helped develop a community of local cold water divers and has now spent years supporting a thriving tribe of international artists, film makers, and first time shooters from its locations in Monterey, California and Derry, New Hampshire in the USA. For more about Backscatter or articles on equipment and techniques, please see: http://www.backscatter.com Berkley's images and technical articles are regularly published in international magazines and he regularly serves a photographic judge or technical editor on publications. He is also a major promoter for educational events designed for both industry and consumer users such as the Digital Shootout and the DEMA Imaging Center. To learn more about his intensive educational events, please see: http://www.thedigitalshootout.com. Berkley runs a limited schedule of exotic photo safaris each year. From the warm diverse waters of Indonesia to the cold adventure of Alaska, Berkley's shared adventures are always scheduled to be at the best time with the best local knowledge for image makers. For a complete schedule of events, please see his travel company: http://www.underexposures.com.
Mary Lynn Price

Mary Lynn is a videographer, video editor, and pioneering video podcaster based in La Jolla, California. She creates short form videos for education institutions, science, and news organizations, scuba adventure and shark diving operations, film festivals, and art galleries.

Her work includes news, science, and education video packages, adventure and sports videos, exploration, historical, and art videos. Mary Lynn's work has appeared in nationally broadcast documentaries, award-winning news productions, and educational projects. Please view samples of her work on the Sample Videos page.

Mary Lynn launched DiveFilm.com in early 2000 as one of the first websites dedicated to streaming underwater video on the internet. In 2005 she released the first podcast of underwater video to be featured at iTunes, DiveFilm Podcast Video. In 2007, she launched the first high definition podcast of underwater video, DiveFilm HD Video. DiveFilm Podcasts were named to the iTunes "Best of 2007 Podcasts" list, and showcase some of the best underwater short videos being created today by underwater filmmakers all over the world.

In 2008, Mary Lynn deployed to Antarctica as part of a National Science Foundation grant to produce educational short video portraits of some of the amazing women working in Antarctica.

In 2010 and 2011, she deployed to Antarctica to produce science communication videos about the work of the Weddell seal research team studying Weddell seal ecology in the Erebus Bay region of Antarctica's pristine Ross Sea. Mary Lynn plans to return to Antarctica in 2012 to continue this work.

An Apple-certified Pro in Final Cut Pro, Mary Lynn teaches video editing and short-form video storytelling on land and at sea. She is one of the founding organizers of the San Diego UnderSea Film Exhibition
Jim Decker



As the CEO of Backscatter, Jim is one of the top experts in the world on underwater photo and video equipment and shooting technique. From SLRs to compacts and handycams to broadcast video, Jim has shot video and photo systems from all the major underwater manufacturers and has been a consultant on many of the designs seen in the water today. Jim has also consulted with many professional photographers, production companies, resorts, and magazines including Mythbusters, Discovery Channel, Sport Diver Magazine, Scuba Diving Magazine, Into The Drink, National Geographic, Freshwaters Illustrated, and many more.
Joel Penner

Joel is the founder of Newmediasoup, LLC, a multimedia and event coverage company based in Oakland, CA. He is also part of the marketing team at Backscatter Underwater Video & Photo. Joel was an early adopter of the use of DSLR cameras for shooting high definition underwater video and currently shoots 4K Ultra High Definition video as part of his business. He is also an active product tester for Backscatter assisting with underwater video camera testing and video editing for new products. Joel strives to digitally capture sea life and habitats that are both inspiring and captivating. Joel is on staff at The Digital Shootout, an annual, week-long workshop for underwater photographers and videographers, designed to take one's skills to the next level.