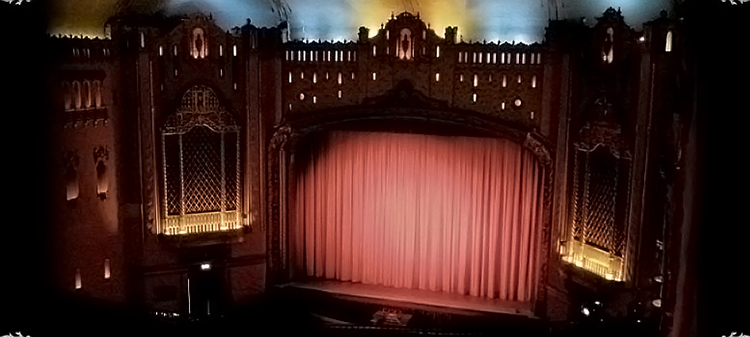 The Monterey Shootout Film Festival has a history for bringing the top names in underwater filmmakers to the local screen.
Please join us this year at the elegant Golden State Theatre and go behind the scenes with underwater filmmakers from
Canon Explorers of Light, BBC, National Geographic, and independent filmmakers as they share clips and images of their life
below the waves.
WHERE:
Golden State Theatre
417 Alvarado St, Monterey, CA
(831) 372-4555






DOWNLOAD
The Official Monterey
Underwater Film
Festival Poster


WHEN:
Saturday, September 10, 2011 - 7:30pm
Film Festival Only Pass – Adult

if you are a competitor, you get in free!

$5
$5
Film Festival Only with Student ID*

*Student? Visit Backscatter to pick up your Free Film Festival arm band in advance.

FREE
FREE
Sat Film Festival and Sun Seminars Pass
$15
$20

PRESENTERS
Rick Rosenthal | BBC Blue Planet Emmy Award Winning Cinematographer
Encounters in the Open Sea - Tuna, Marlin, Sailfish


The presentation will focus on key aspects in the natural history and behavior of pelagic life, including rare glimpses at the behavior of large predatory fishes such as tunas, marlin and sailfish, and close encounters with great whales, dolphins and diving sea birds.



RICK ROSENTHAL - Rick Rosenthal is a two-time EMMY (2002-2010) award-winning cinematographer and marine biologist. He started diving in San Diego in 1960, and for many years was involved with scientific research projects along the Pacific Coast of North America. Rick has authored or co-authored more than fifty scientific papers on nearshore ecology and fisheries biology. He received a Bachelors Degree in Biology from Humboldt State University, and a Masters Degree in Marine Biology from San Diego State University. After graduation, Rick served on the research staff at Westinghouse Ocean Research Laboratory (San Diego) and Scripps Institute of Oceanography. Rick worked for many years as a consulting biologist for the Alaska Department of Fish & Game; the National Marine Fisheries Service and US Fish & Wildlife. In 1984, he began a long association with the prestigious BBC/Natural History Unit in Bristol, England. During this time, he has filmed some of the most challenging wildlife subjects in the sea. Rick was a principal cameraman for BBC's landmark BLUE PLANET series, and the feature film DEEP BLUE. He filmed on the blockbuster series PLANET EARTH and Disney Nature's EARTH. The BBC, PBS and Discovery channels commissioned three of his whale films RIDDLE OF THE RIGHT WHALE, HUMPBACK WHALES and SPERM WHALES BACK FROM THE ABYSS for worldwide broadcast. His passion for the open ocean far from the coasts and reefs led him to direct the one-hour film SUPERFISH about the fastest predator in the sea. His camera work is also an integral part of the National Geographic television series GREAT MIGRATIONS and the newest BBC/Discovery mega-series LIFE. Currently he is filming HOT TUNA an extremely challenging endeavor about the science, natural history and behavior of bluefin, yellowfin and skipjack tunas in the Atlantic and Pacific Oceans. Rick lives in Santa Barbara, California and travels extensively doing film work and giving presentations accompanied by high definition video about the marine environment and the wonders of the natural world. For more details contact: katya.shirokow@wildlogic.net
Stephen Frink | Canon Explorer of Light
Reef Retrospective - Visions of Three Decades on the Reef


Stephen Frink has enjoyed a long career as one of the word's most widely published marine photographers. Assignments and personal projects have taken him to most of the iconic tropical destinations throughout the world. Join him as he recounts many of his "greatest hits", his personal favorite images and the stories behind them.



STEPHEN FRINK - Stephen Frink is among the world's most frequently published UW photographers, and is a Canon EXPLORER OF LIGHT, the only marine specialist within this very elite group of photographers.

He is also the publisher of a beautiful new quarterly magazine for the Divers Alert Network, ALERT DIVER. Previously, his editorial work appeared in SCUBA DIVING as Director of Photography, and as a contributing photographer for SKIN DIVER magazine for 17-years. Frink has authored a coffee table book entitled WONDERS OF THE REEF, and teaches Masters level courses of Stephen Frink School of Underwater Digital Imaging in his home waters of Key Largo, Florida. Clients for assignment photography over the past 3 decades have included Canon, Nikon, Victoria's Secret, Aqualung, Oceanic, Scubapro, Subgear, Mercury Marine, Jantzen, Alcan Aluminum, R.J. Reynolds, Seaquest, Henderson Aquatics, Neosport, American Express, Club Med; as well as scores of resorts and live-aboard dive boats throughout the world. Rolex Watch Company has also engaged Frink for both endorsement and product photography. Other Frink enterprises include a dive travel company,

WaterHouse Tours and Reservations

and a stock photo agency, Stephen Frink Collection.

Stephen Frink Photographic

is the North and South American distributor for the Austrian camera housing manufacturer

SEACAM

.
Chuck Davis | Cousteau and IMAX Cinematographer
Below the Waves from Monterey to Alaska
Chuck Davis will present film clips and behind-the-scene anecdotes from over 20 years of IMAX features, commercials, and television documentaries in the most amazing marine environments.

CHUCK DAVIS - FROM THE FREEZING CLIMES OF ANTARCTICA and Greenland to the heat and humidity of the Amazon, Chuck Davis has worked as a specialist in marine and underwater photography and cinematography. His motion picture filming credits include work on several IMAX films, including Ring of Fire (underwater lava scenes), Whales, The Greatest Places, Amazing Journeys, Search for the Great Sharks, and two Academy Award-nominated IMAX films,Alaska: Spirit of the Wild and The Living Sea (underwater/marine scenes of Monterey Bay). Davis's cinematography experience has also included numerous expeditions worldwide with the Cousteau filming teams working with the late Jacques-Yves Cousteau and his son Jean-Michel during production of the Rediscovery of the World TV series. He has also worked on feature films such as Warner Brothers' SPHERE and documentary projects for the Discovery/Learning Channel, BBC, PBS, CBS, ABC, A&E, NBC/Universal and National Geographic Channel. Recent cinematography projects include work as the director of photography for Jean-Michel Cousteau's "Ocean Adventures" PBS TV series, the Smithsonian's Who We Are (a special dome-theater film for the National Museum for the American Indian, in Washington, D.C.), and the avant-garde production, Crystal Palace, filmed in Papua New Guinea for director, Mathias Poledna. A WIDELY PUBLISHED STILL PHOTOGRAPHER, Chuck's images have appeared nationally and internationally in magazines such as B+W, ORION, LIFE, National Geographic, Audubon, Nature's Best, Defenders, National Wildlife, Outside, Scientific American, Terre Sauvage, BBC Wildlife, Italy's FOCUS/Extra, Ocean Realm and numerous Cousteau publications. His fine art black and white and color work has been represented in special exhibitions by the Ansel Adams Gallery, the Christopher Bell Collection Gallery, the OCEANS Gallery in Los Angeles and in multi-photographer exhibits at the National Geographic Society/Explorer's Hall in Washington, D.C., Nikon House/New York, The Center for Photographic Art, Brooks Institute and the San Francisco International Airport. Davis's work is included in numerous private and corporate collections; he is also the author/photographer of California Reefs/Chronicle Books. Davis earned degrees in fisheries biology from the University of Massachusetts/Amherst and in filmmaking from the Brooks Institute of Photography. The main thrust in Davis' personal work is helping to stimulate marine environmental awareness and conservation via the use of marine and underwater imagery.
Eric Cheng | Sperm Whales and Giant Squid

ERIC CHENG - Eric Cheng is an award-winning underwater photographer known for his passion as an educator. Eric won a prestigious Antibes Festival award for his work with Wetpixel.com, the Antibes underwater imaging web site of the year. His underwater photographs have won contests like the prestigious Nature's Best Magazine photo competition, which placed some of his work in the Smithsonian's Natural History Museum. Eric's photography has been seen in over 60 magazines and books worldwide. Eric is the editor and publisher of Wetpixel.com, the premiere online community for underwater photographers. Hosting thousands registered underwater photographers internationally, Wetpixel's friendly community offers breaking news, reviews, features, community forums, image galleries, photo contests, photo expeditions, and more. In 2007, Eric and co-editor Elijah Woolery launched Wetpixel Quarterly, a landscape print magazine featuring the best in underwater photography. In both online and print endeavors, Eric strives to provide a forum for photographers to share their work and discuss ocean-related issues, and in turn, educate viewers about the beauty and fragility of the marine ecosystem. Caught between technical and creative worlds, Eric holds bachelor's and master's degrees in computer science from Stanford University, where he also studied classical cello performance. Through Wetpixel Expeditions, Eric leads regular photography expeditions and workshops around the world. He has given seminars and lectures internationally at events such as TEDx, Boston Sea Rovers Clinic, DEMA, Digital Shootouts, Kona Classic, Scuba Diving Magazine events, and others. Eric is also involved in ocean conservation, and is technical advisor and photographer for Sea Shepherd Conservation Society. He was the head photographer for Operation Musashi, Sea Shepherd's 2008-2009 anti-whaling campaign in Antarctica, which was featured in season 2 of the hit TV show, Whale Wars. Eric is also on the Board of Directors of Shark Savers, an organization dedicated to shark conservation. Eric's underwater images can be found on his personal website:
http://echeng.com/photo/
http://echeng.com/travel/
Berkley White | Hammerhead Sharks and Mantas



BERKLEY WHITE

- Berkley White is the founder of Backscatter Underwater Video & Photo which has grown to be the largest underwater photographic equipment supplier is the USA. Since 1994, Backscatter helped develop a community of local cold water divers and has now spent years supporting a thriving tribe of international artists, film makers, and first time shooters from its locations in Monterey, California and Derry, New Hampshire in the USA. For more about Backscatter or articles on equipment and techniques, please see: http://www.backscatter.com Berkley's images and technical articles are regularly published in international magazines and he regularly serves a photographic judge or technical editor on publications. He is also a major promoter for educational events designed for both industry and consumer users such as the Digital Shootout and the DEMA Imaging Center. To learn more about his intensive educational events, please see: http://www.thedigitalshootout.com. Berkley runs a limited schedule of exotic photo safaris each year. From the warm diverse waters of Indonesia to the cold adventure of Alaska, Berkley's shared adventures are always scheduled to be at the best time with the best local knowledge for image makers. For a complete schedule of events, please see his travel company: http://www.underexposures.com.
Please Note: Due to the unpredictable schedule of underwater filmmakers, this line-up is subject to change. Any changes to the presenter schedule will be posted to this page.