36 HOURS
107 UNDERWATER PHOTOGRAPHERS
FLAT SEAS, TUNA CRABS, AND GREAT VISIBILITY

Backscatter and the Northern California Underwater Photographic Society (NCUPS) partnered again to host the largest gathering of underwater photographers in the USA. The Monterey Shootout is a three day weekend of diving, educational seminars, celebration, and a chance to win $25,000 in prizes even with the simplest of underwater cameras. This year 107 participants brought their friends and families to share the fun and see what amazing images can be made in a tight 36 hour window of diving. The ocean and weather cooperated by giving us great pockets of visibility and an once in a lifetime invasion of very photogenic tuna crabs. New photographers joined the Friday morning seminars with Mary Lynn Price and Jim Decker to jumpstart their knowledge on basic photo and video editing skills. Sunday seminars featured inspiration by professional photographers Mike Bartick and Jason Bradley who shared insight on how to break out of old habits and spark creativity with new lighting techniques and composition.

A GREAT PARTY WITH NEW FRIENDS!
While the seminars and beautiful diving are worth the price of admission, the social gathering is the heart of the Monterey Shootout. Hanging out on the beach and boats with likeminded divers gives us coldwater enthusiasts a real sense of community and part of a 30 year history of photo gatherings on Monterey Bay. After two days of diving, over 150 people gathered back to the Backscatter mothership for a night of celebration and drinks stiff enough to heat up the most waterlogged diver. This is the most welcoming and enthusiastic group of underwater photographers we've ever seen.
$25,000 IN PRIZES FROM OUR AMAZING SPONSORS

The Monterey Shootout is primarily a social and educational event, but the serious level of prizes is what drives us to envision images weeks in advance, make extra long dives to pull off a shot, and feel the motivation from competition nipping at your heels. Thus, it's with great thanks that we honor the generous support of all of our great sponsors. Thank you sponsors for motivating our coldwater image makers to new personal bests!

AND THE JUDGES HAD A TOUGH JOB

This years photo judges were Scott Campbell, Jim Decker, and Berkley White. Judging is no easy task, especially when there's serious creative effort on display from over 450 images. The incredibly flat seas, unprecedented tuna crab population, and the creative efforts of contestants made for cheers and celebration in the judging room. However, a few categories had three way fights and forced compromises to find consensus. At the end of the day, all judges were thrilled with the efforts and felt honored and inspired by the creativity on display.

In the video judging room, Carl Miller, Mary Lynn Price, and Rusty Sanoian deliberated the merits of their favorite videos. As with past years, the top awards teetered on a balance of story telling and traditional image quality. The top three videos each featured award winning content such as a creative personal soundtrack, stellar visuals, and a great story. This year the story eventually won over the judges for top prize, but certainly all of the videos are worthy of great praise.

Congratulations to all who participated in the 2016 Monterey Shootout!


CHUCK TRIBOLET BEST OF SHOW AWARD

This year we are proud to feature an honorary Chuck Tribolet Best of Show Award. Chuck was a brilliant engineer by day and the de facto mayor of diving Monterey via small boats by weekend. He introduced many of us to early GPS systems, ocean weather sleuthing, and helped pioneer diving in Monterey. He was a major advocate of marine conservation and facilitated the judging of the Monterey Shootout and California Beach Photo Competition for over 20 years. Winner of this prize will receive a large print of their image courtesy of Bradley Photographic and Backscatter. The print will be displayed at Backscatter and then passed on to the winning photographer.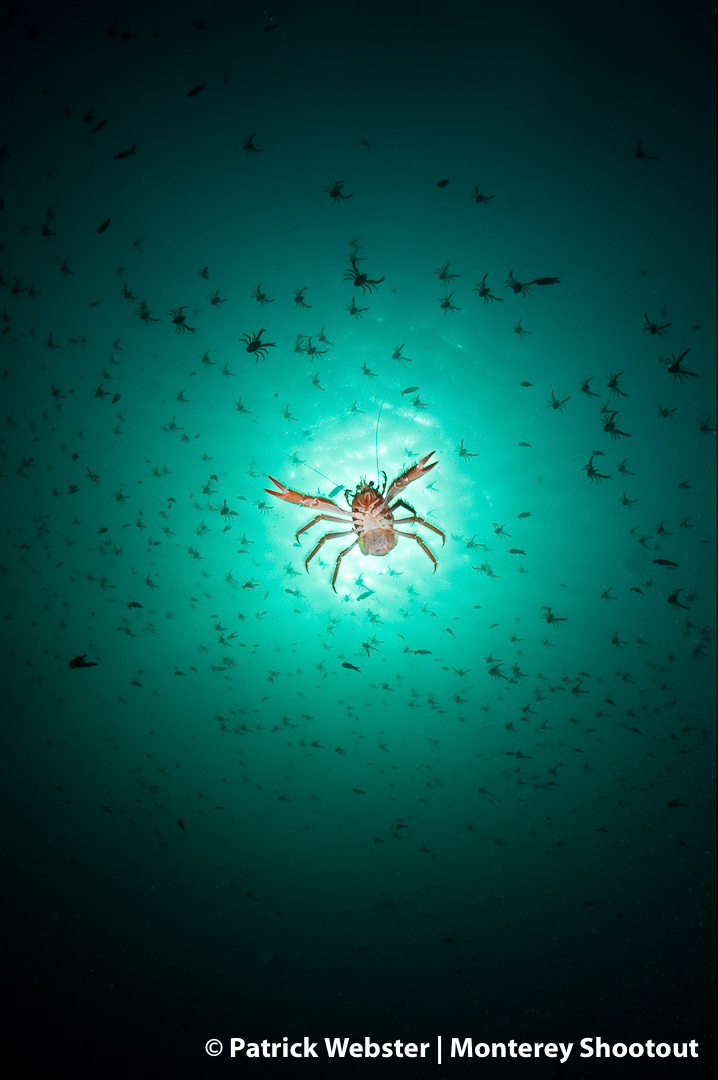 WINNERS - Advanced WIDE ANGLE TRADITIONAL

WINNERS - Advanced WIDE ANGLE UNRESTRICTED

WINNERS - Advanced MACRO Traditional

WINNERS - Advanced MACRO Unrestricted

WINNERS - INTERMEDIATE WIDE ANGLE TRADITIONAL

WINNERS - INTERMEDIATE WIDE ANGLE UNRESTRICTED

WINNERS - INTERMEDIATE MACRO Traditional

WINNERS - Intermediate MACRO Unrestricted

WINNERS - BeginneR WIDE ANGLE TRADITIONAL

WINNERS - BEGINNER WIDE ANGLE UNRESTRICTED

WINNERS - BEGINNER MACRO TRADITIONAL

WINNERS - BEGINNER MACRO UNRESTRICTED

1st Place - Patrick Webster

2nd Place - Joe Platko

3rd Place - Phil Lemley

Honorable Mention 1 - Brad Brown

Honorable Mention 2 - Mike Costa

Honorable Mention 3 - Jeffrey Honda

1st Place - Brian Herold

2nd Place - Patrick Webster

3rd Place - Kyle McBurnie

HM1 - Joe Platko

HM2 - Vincent Hwang

HM3 - Mike Costa

1st Place - Brad Brown

2nd Place - Andy Charal

3rd Place - Jeffrey Honda

HM1 - Vincent Hwang

HM2 - Emily Simpson
Berkley White



Berkley White is the founder of Backscatter Underwater Video & Photo which has grown to be the largest underwater photographic equipment supplier is the USA. Since 1994, Backscatter helped develop a community of local cold water divers and has now spent years supporting a thriving tribe of international artists, film makers, and first time shooters from its locations in Monterey, California and Derry, New Hampshire in the USA. For more about Backscatter or articles on equipment and techniques, please see: http://www.backscatter.com Berkley's images and technical articles are regularly published in international magazines and he regularly serves a photographic judge or technical editor on publications. He is also a major promoter for educational events designed for both industry and consumer users such as the Digital Shootout and the DEMA Imaging Center. To learn more about his intensive educational events, please see: http://www.thedigitalshootout.com. Berkley runs a limited schedule of exotic photo safaris each year. From the warm diverse waters of Indonesia to the cold adventure of Alaska, Berkley's shared adventures are always scheduled to be at the best time with the best local knowledge for image makers. For a complete schedule of events, please see his travel company: http://www.underexposures.com.
Jim Decker



As the CEO of Backscatter, Jim is one of the top experts in the world on underwater photo and video equipment and shooting technique. From SLRs to compacts and handycams to broadcast video, Jim has shot video and photo systems from all the major underwater manufacturers and has been a consultant on many of the designs seen in the water today. Jim has also consulted with many professional photographers, production companies, resorts, and magazines including Mythbusters, Discovery Channel, Sport Diver Magazine, Scuba Diving Magazine, Into The Drink, National Geographic, Freshwaters Illustrated, and many more.
Mary Lynn Price



Mary Lynn Price is a video journalist and an Apple certified pro in Final Cut Pro. She is the executive producer of the iTunes featured podcast, DiveFilm HD Video, and is a founding organizer of the San Diego UnderSea Film Exhibition. She teaches video editing and storytelling on land and at sea. Samples of Mary Lynn's work at marylynnprice.com and WeddellSealScience.com.

Mary Lynn will be focusing on video editing and storytelling, and sharing video via video sharing websites such as YouTube and Vimeo, as well as social networks like Facebook and Twitter. Whether you are a new videographer wanting to get started creating short videos to share, or an experienced videographer wanting to improve your editing and storytelling, Mary Lynn will help you take your video production skills to the next level through her fast-paced presentations and individualized assistance.
Scott Campbell



Out of reach and out of sight for many, the underwater world comes alive through the ethereal black and white images of world class freediver Scott Campbell. Campbell's breath hold skills allow him to approach marine subjects differently than photographers that rely on SCUBA. All of Scott's work is captured on a breath of air, commonly called Freediving. Scott spent 5 years competing on the US Freediving Team and set numerous records for depth and duration. He has held his breath for over seven and a half minutes and can dive to 200 feet. These skills, coupled with his photography background, produce work that is unique to the blue water environment.
Carl Miller



Though born in England, filmmaker Carl Miller has spent most of his life in the San Francisco Bay Area of California. Believing that motion picture films can harbor magnificent influence toward creating positive change, Carl obtained a degree in film production at San Diego State University. With degree in hand, he returned to the Bay Area to work for George Lucas' Industrial Light and Magic. There, he "cut his teeth" in the industry for 20 years on more than 30 major motion pictures, and quickly grew into a position as a Visual Effects Director of Photography. Carl was awarded for Outstanding Models and Miniatures in a Motion Picture, by the Visual Effects Society, for PIRATES OF THE CARIBBEAN: Dead Man's Chest. Concurrently, he independently created a 90 minute video about Scuba diving in Monterey, and sold thousands of copies.Carl was the Creative & Director for the $1/2 million DLP Cinema trailer, "Birth of an Image," which opened theaters all over the world. With an ongoing desire to tell cinematic stories, Carl began his personal dramatic filmmaking career with the motion picture RETALIATION, which has played at prestigious film festivals. He was involved as the Cinematographer to reshoot about 50% of George Lucas' latest film RED TAILS. Carl continues working in cinema as a Producer / Director / Cinematographer / and Writer.
Mike Bartick

Mike was raised in sunny Southern California just a short distance from the shores of the Pacific Ocean. An avid diver and marine wildlife enthusiast, he turned to photography to capture and share some of his diving experiences with others. His first underwater camera was borrowed from a buddy to take on one of the frequent family trips to Hawaii. Needless to say he has never returned that camera and from that trip forward he was hooked. His obsession for photographing critters has taken him all over the world and while he admits to loving the warm waters of the tropics his first love will always be the frigid California waters. Mike's work is featured in magazines, text books, calendars and more and can be found worldwide. He is a small animal expert that frequently leads groups of photographers into Asia to seek out that special critter.
Jason Bradley

Jason Bradley has a unique set of skills. He specializes in nature and wildlife photography both underwater and above; he's the owner and operator of Bradley Photographic Print Services—a fine art print lab; he leads photographic expeditions around the world, he is the author of the book Creative Workflow in Lightroom, published by Focal Press, and is a blogger for Outdoor Photographer Magazine. Visit Jason's site to see more of his work, to learn about fine art printing, and find info on his upcoming workshops and expeditions.
Russ Sanoian

Russ Sanoian is the product manager at Backscatter and a freelance underwater and nature videographer based in Monterey, California. Russ has extensive use with most of the current manufacturers video and still housings being offered in todays market.

Russ has been diving closed circuit rebreathers and underwater scooters for the last 10 years and entered the industry as a lead technical sales person with Light & Motion. Russ joined Backscatter as product manager where he constantly evaluates the latest camera technology and blends imaging techniques with the art of technical diving. Russ is well known in the diving industry as a great educator and mentor of new photographers and technical divers and is always available for imaging and technical support.

Russ's film credits include PBS expeditions to the Andrea Doria, CBC "The Nature of Things", DPTV "Shipwrecks of the Great Lakes", BBC "Life" series and "Million Dollar Otters", Local Television shows and several projects in the cenotes of Mexico and freshwater caves in Florida.
Matt Ferraro



Matt Ferraro has been the lead cinematographer for the Cousteaus for the last 15 years. From the tannin brown waters of the Amazon to the crystal blue below Arctic ice, Matt has documented stunning wildlife behavior and the Cousteau team in every corner of the Earth. Matt's camera experience is as diverse as his travels. Matt cut his teeth on 35mm motion picture film, progressed through all professional video formats and is an expert with the latest digital cinema cameras such as the 6K Red Dragon. Matt's long list of credits includes the award winning 11 hour seven-episode PBS series Ocean Adventures and the record breaking Mission 31. As a deep tech and closed circuit rebreather diver, Matt documented the rarely visited wreck of the USS Monitor, was the part of the first team in 19 years to touch down on Cordell Bank and was one of the first to record the twilight reefs of the Northwester Hawaiian Islands. While continuing production work and his passion for ocean conservation, Matt is currently employing his hard won skills in a newly created position for him at Backscatter Underwater Video & Photo as Resident Cinematographer.