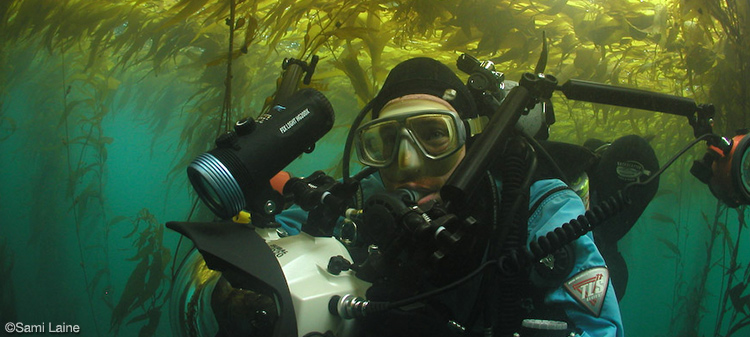 COMPETE IN OUR COMPETITION NO MATTER YOUR SKILL LEVEL
Entrants can choose to compete in the Video Competition and/or the Photo Competition. The Video Competition has one skill level. The Photo Competition has three skill levels: Beginner, Intermediate and Advanced. All participants can elect to compete in a higher skill level than their qualifications.
VIDEO COMPETITION
We will reward the best underwater video with great prizes! Regardless if you shoot a point & shoot camera, digital SLR with video capability, or a pro level HD system, we're asking our judges to award prizes based on content, not broadcast quality.


PHOTO COMPETITION SKILL LEVELS:
If you are a new underwater photographer, this is the category for you. In the spirit of rewarding new photographers, entries in this category are limited to photographers who have taken a camera diving less than 50 dives and have won less than $500 in prizes in any major underwater photography competition or have received less than $500 in payment for any underwater photography work. Our panel of judges reserve the right to eliminate any Beginner entries that they feel should have been entered in the Intermediate category based on the entrant's experience.



The spirit of the intermediate digital photo category is to reward anyone that has shot underwater more than 50 dives and has already received a few kudos or prizes in the past. If you've won a total of 3 prizes or less (first, second or third place) in a major competition and/or are not regularly selling your underwater photography this is the category for you. Our panel of judges reserve the right to eliminate any Intermediate entries that they feel should have been entered in the Advanced category based on the entrant's experience.

If you have received a total of 4 or more prizes (first, second or third place wins) in a major competition the advanced category is for you. Our prize point system will reward winners in this category with the highest points and thus the best prizes.

PHOTO ONLY Competitor

$75
$90
VIDEO ONLY Competitor
$75
$90
PHOTO AND VIDEO Competitor
$85
$100
Film Festival Only Pass – Adult

if you are a competitor, you get in free!

$10
$10
Film Festival Only Pass – Child
(12 and under)
$5
$5
Sunday Seminars Guest Pass
$10
$15
Film Festival and Sun Seminars Pass


if you are a competitor, you get in free!

$15
$20
Howard & Michele Hall





Howard and Michele Hall are wildlife filmmakers who specialize in marine wildlife films. Working as a team Howard and Michele have produced and directed many television films including a National Geographic Special, three episodes of the PBS series Nature and the five-hour PBS series Secrets of the Ocean Realm. Their television work has resulted in seven Emmy Awards. The Hall's are perhaps best known for their underwater IMAX® films. In 1994 Howard directed the first-ever underwater IMAX 3D feature, Into the Deep, and in 1998 he directed and Michele produced the IMAX film, Island of the Sharks. The Hall's returned to the IMAX 3D format in 2005 when Michele produced and Howard directed the Warner Bros./IMAX feature Deep Sea 3D, a film that has grossed more than $94 million at the box office. In 2009 the Hall's followed Deep Sea 3D with the award-winning sequel, Under the Sea 3D. Howard and Michele have participated in many other underwater IMAX productions in various capacities and in 2002 their underwater production team was featured in the MacGillivray Freeman's IMAX film Coral Reef Adventure. Currently, Howard and Michele are again working with MacGillivray Freeman films in IMAX film production for their One World, One Ocean campaign.
Bob Talbot



As a world-renowned marine photographer, award-winning filmmaker and dedicated environmentalist, Bob Talbot has combined his unique visual style and storytelling ability with state-of-the-art entertainment technologies to create intimate ocean experiences on film.

His photographs of whales and dolphins have been reproduced into millions of lithographs distributed around the world, and his motion picture work has appeared in many television, film and special venue productions. Talbot filmed the wildlife sequences for the Warner Bros. series of FREE WILLY feature films and Universal Pictures' FLIPPER. He directed and photographed the IMAX® Ridefilm™ motion simulation system film DOLPHINS - THE RIDE, and acted as a director and cinematographer for sequences in the Academy Award-nominated MacGillivray Freeman IMAX® film, DOLPHINS. Talbot also directed and photographed the award winning IMAX® film OCEANMEN - EXTREME DIVE about world champion free divers Pipin Ferreras and Umberto Pelizzari.

Talbot is a recipient of the Environmental Hero Award presented by the United States Department of Commerce, as well as the Ark Trust Genesis Award. In 2004 he was presented with International SeaKeepers Society's prestigious SeaKeeper Award by HSH Prince Albert of Monoco.

Talbot has worked on several Cousteau Society productions, and continues to collaborate with Jean Michel Cousteau on Ocean Futures projects. He serves on the board of governors for Oceana, on boards of Sea Shepherd Conservation Society and the Earth Communications Office and is Chairman of the Board of Trustees for the National Marine Sanctuary Foundation. Talbot also works with many other environmental groups on marine conservation issues.



Shawn Heinrichs



Shawn is a passionate photographer, cinematographer and marine conservationist. He has worked with leading journalist and film teams including CNN's Anderson Cooper, Yann Arthus Bertrand, and National Geographic, and delivered projects for many of the top marine conservation organizations including WildAid, Shark Savers, Conservation International, The Nature Conservancy and Pew Environment Group. His award-winning work has been featured with National Geographic, BBC, New York Times, Huffington Post, Washington Post, WIRED and numerous other print and online publications. See more of Shawn's work.


Eric Cheng

Eric Cheng is an award-winning underwater photographer known for his passion as an educator. Eric won a prestigious Antibes Festival award for his work with Wetpixel.com, the Antibes underwater imaging web site of the year. His underwater photographs have won contests like the prestigious Nature's Best Magazine photo competition, which placed some of his work in the Smithsonian's Natural History Museum. Eric's photography has been seen in over 60 magazines and books worldwide. Eric is the editor and publisher of Wetpixel.com, the premiere online community for underwater photographers. Hosting thousands registered underwater photographers internationally, Wetpixel's friendly community offers breaking news, reviews, features, community forums, image galleries, photo contests, photo expeditions, and more. In 2007, Eric and co-editor Elijah Woolery launched Wetpixel Quarterly, a landscape print magazine featuring the best in underwater photography. In both online and print endeavors, Eric strives to provide a forum for photographers to share their work and discuss ocean-related issues, and in turn, educate viewers about the beauty and fragility of the marine ecosystem. Caught between technical and creative worlds, Eric holds bachelor's and master's degrees in computer science from Stanford University, where he also studied classical cello performance. Through Wetpixel Expeditions, Eric leads regular photography expeditions and workshops around the world. He has given seminars and lectures internationally at events such as TEDx, Boston Sea Rovers Clinic, DEMA, Digital Shootouts, Kona Classic, Scuba Diving Magazine events, and others. Eric is also involved in ocean conservation, and is technical advisor and photographer for Sea Shepherd Conservation Society. He was the head photographer for Operation Musashi, Sea Shepherd's 2008-2009 anti-whaling campaign in Antarctica, which was featured in season 2 of the hit TV show, Whale Wars. Eric is also on the Board of Directors of Shark Savers, an organization dedicated to shark conservation. Eric's underwater images can be found on his personal website:
http://echeng.com/photo/
http://echeng.com/travel/
Berkley White



Berkley White is the founder of Backscatter Underwater Video & Photo which has grown to be the largest underwater photographic equipment supplier is the USA. Since 1994, Backscatter helped develop a community of local cold water divers and has now spent years supporting a thriving tribe of international artists, film makers, and first time shooters from its locations in Monterey, California and Derry, New Hampshire in the USA. For more about Backscatter or articles on equipment and techniques, please see: http://www.backscatter.com Berkley's images and technical articles are regularly published in international magazines and he regularly serves a photographic judge or technical editor on publications. He is also a major promoter for educational events designed for both industry and consumer users such as the Digital Shootout and the DEMA Imaging Center. To learn more about his intensive educational events, please see: http://www.thedigitalshootout.com. Berkley runs a limited schedule of exotic photo safaris each year. From the warm diverse waters of Indonesia to the cold adventure of Alaska, Berkley's shared adventures are always scheduled to be at the best time with the best local knowledge for image makers. For a complete schedule of events, please see his travel company: http://www.underexposures.com.
Jay Ireland

Jay's innate understanding of animal behavior is a key ingredient for the success of both Bradley Ireland Productions and The Imaging Foundation. Jay's quest, to get close enough to capture the ultimate stingray image, launched Stingray City. The 1986 National Geographic story promoted friendly rays and the Wall Street Journal called Stingray City the most successful underwater attraction in the world.

Logging over 2,000 dives at Cocos Island alone, Jay's photos of shark finning were used to initiate a successful campaign to protect Cocos. Later, his experience and his images were incorporated into the petition, which won the Island its UNESCO World Heritage status. Ireland's images have appeared on countless magazine covers worldwide, calendars postage stamps and lottery tickets. Jay's work with Paramount Productions won Wild Things the top rating in sweeps week. His work documenting the Humboldt Squid was showcased on National Geographic's Squid Invasion. He is a driving force behind the Imaging Foundation, and uses the power of video and production to teach about the ocean.
Mary Lynn Price

Mary Lynn is a videographer, video editor, and pioneering video podcaster based in La Jolla, California. She creates short form videos for education institutions, science, and news organizations, scuba adventure and shark diving operations, film festivals, and art galleries.

Her work includes news, science, and education video packages, adventure and sports videos, exploration, historical, and art videos. Mary Lynn's work has appeared in nationally broadcast documentaries, award-winning news productions, and educational projects. Please view samples of her work on the Sample Videos page.

Mary Lynn launched DiveFilm.com in early 2000 as one of the first websites dedicated to streaming underwater video on the internet. In 2005 she released the first podcast of underwater video to be featured at iTunes, DiveFilm Podcast Video. In 2007, she launched the first high definition podcast of underwater video, DiveFilm HD Video. DiveFilm Podcasts were named to the iTunes "Best of 2007 Podcasts" list, and showcase some of the best underwater short videos being created today by underwater filmmakers all over the world.

In 2008, Mary Lynn deployed to Antarctica as part of a National Science Foundation grant to produce educational short video portraits of some of the amazing women working in Antarctica.

In 2010 and 2011, she deployed to Antarctica to produce science communication videos about the work of the Weddell seal research team studying Weddell seal ecology in the Erebus Bay region of Antarctica's pristine Ross Sea. Mary Lynn plans to return to Antarctica in 2012 to continue this work.

An Apple-certified Pro in Final Cut Pro, Mary Lynn teaches video editing and short-form video storytelling on land and at sea. She is one of the founding organizers of the San Diego UnderSea Film Exhibition
Erin Quigley

Erin Quigley is a Adobe ACE certified digital imaging consultant specializing in customized workflows and editing strategies using Adobe Photoshop and Lightroom. She is an award-winning underwater photographer and video editor, and creator of GoAskErin.com, which provides custom tutorials and one-on-one instruction specifically developed for the underwater photographic community. She has just been added to the membership roster of the Ocean Artists Society. She is a regular presenter at schools and dive organizations, and along with her private consulting business, runs the Go Ask Erin digital help desk online and at The Digital Shootout. For more information, please visit: GoAskErin.com.



Erin Quigley is a Adobe ACE certified digital imaging consultant specializing in customized workflows and editing strategies using Adobe Photoshop and Lightroom. She is an award-winning underwater photographer and video editor, and creator of GoAskErin.com, which provides one-on-one instruction, custom video tutorials, and Photoshop and Lightroom resources specifically developed for the underwater photographic community. Along with her private consulting business, Erin runs the Go Ask Erin digital help desk online and at The Digital Shootout.

Erin began her career as the resident costume designer for Chicago's famed Steppenwolf Theatre Company , during which time she earned two Tony Award nominations for her work on Broadway. In the ensuing years, she returned to her hometown of Los Angeles and designed the television sitcom "Roseanne", along with many other stage, television, and film projects. Later, Erin worked as a producer and development executive for 23 Red Productions, in collaboration with 20th Century Fox and Warner Brothers Television
Jim Decker



As the CEO of Backscatter, Jim is one of the top experts in the world on underwater photo and video equipment and shooting technique. From SLRs to compacts and handycams to broadcast video, Jim has shot video and photo systems from all the major underwater manufacturers and has been a consultant on many of the designs seen in the water today. Jim has also consulted with many professional photographers, production companies, resorts, and magazines including Mythbusters, Discovery Channel, Sport Diver Magazine, Scuba Diving Magazine, Into The Drink, National Geographic, Freshwaters Illustrated, and many more.