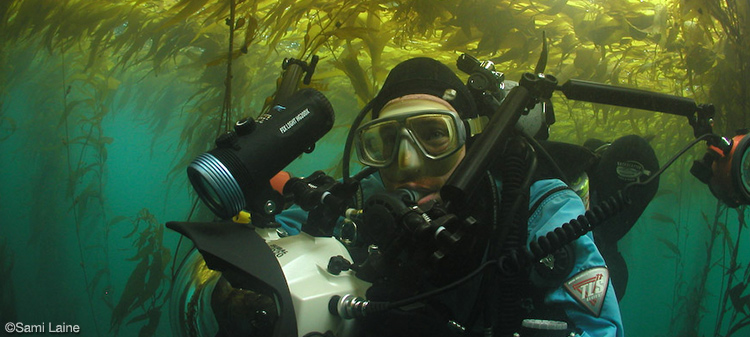 COMPETE IN OUR COMPETITION NO MATTER YOUR SKILL LEVEL
Entrants can choose to compete in the Video Competition and/or the Photo Competition. The Video Competition has one skill level. The Photo Competition has three skill levels: Beginner, Intermediate and Advanced. All participants can elect to compete in a higher skill level than their qualifications.
VIDEO COMPETITION
We will reward the best underwater video with great prizes! Regardless if you shoot a point & shoot camera, digital SLR with video capability, or a pro level HD system, we're asking our judges to award prizes based on content, not broadcast quality.


PHOTO COMPETITION SKILL LEVELS:
If you are a new underwater photographer, this is the category for you. In the spirit of rewarding new photographers, entries in this category are limited to photographers who have taken a camera diving less than 50 dives and have won less than $500 in prizes in any major underwater photography competition or have received less than $500 in payment for any underwater photography work. Our panel of judges reserve the right to eliminate any Beginner entries that they feel should have been entered in the Intermediate category based on the entrant's experience.



The spirit of the intermediate digital photo category is to reward anyone that has shot underwater more than 50 dives and has already received a few kudos or prizes in the past. If you've won a total of 3 prizes or less (first, second or third place) in a major competition and/or are not regularly selling your underwater photography this is the category for you. Our panel of judges reserve the right to eliminate any Intermediate entries that they feel should have been entered in the Advanced category based on the entrant's experience.

If you have received a total of 4 or more prizes (first, second or third place wins) in a major competition the advanced category is for you. Our prize point system will reward winners in this category with the highest points and thus the best prizes.

Professional underwater photographers and/or videographers are ONLY eligible to compete in this Skill level. If your work is frequently published in industry magazines, books, galleries, used for resort or industry marketing, and where total annual earnings from the above mentioned work, classes or seminars taught, selling of images, or comp-ed trip(s) received total to $10,000 or more per year; you are considered to be a professional by this competition's advisory board. This category will be judged by popular public opinion vote by attendees at the Saturday evening Imaging Festival, thus competition judges are eligible to compete in this skill level.


PHOTO ONLY Competitor

$75
$90
VIDEO ONLY Competitor
$75
$90
PHOTO AND VIDEO Competitor
$85
$100
Evening Imaging Show Only Pass – Adult

if you are a competitor, you get in free!

$5
$5
Evening Imaging Show Only with Student ID
FREE
FREE
Sunday Seminars Guest Pass
$10
$15
Evening Imaging Show and Sun Seminars Pass


if you are a competitor, you get in free!

$15
$20
JASON BRADLEY

- Jason is a nature and underwater photographer based in Monterey, California and is happiest photographing and telling stories of aquatic habitats and ecosystems. In nature or in the studio, Jason is a self-taught photographer with a dynamic portfolio consisting of land and seascapes, wildlife, portraiture, science, conservation issues, and adventure sports, and Jason has recently been recognized as nature photography's "next generation" by Outdoor Photographer Magazine. Jason runs Bradley Photographic Workshops, providing field and classroom seminars for photographers. Jason's seminars instruct on digital photo techniques, retouching and post processing, digital asset management, digital printing, and he specializes in Adobe software such as Lightroom and Photoshop. Jason also serves on the Education Committee for the Center for Photographic Art, a non-profit organization housed in Carmel California's Sunset Cultural Center. CPA is committed to community education and individual artistic development by providing public photography shows and exhibitions, field workshops, lectures, and classroom seminars. To see more of Jason Bradley's work or learn more about Bradley Photographic visit his website at: BradleyPhotographic.com
ERIC CHENG

- Eric Cheng is Director of Photography at Lytro and is an award-winning underwater photographer known for his passion as an educator. Eric won a prestigious Antibes Festival award for his work with Wetpixel.com, the Antibes underwater imaging web site of the year. His underwater photographs have won contests like the prestigious Nature's Best Magazine photo competition, which placed some of his work in the Smithsonian's Natural History Museum. Eric's photography has been seen in over 60 magazines and books worldwide. Eric is the editor and publisher of Wetpixel.com, the premiere online community for underwater photographers. Hosting thousands registered underwater photographers internationally, Wetpixel's friendly community offers breaking news, reviews, features, community forums, image galleries, photo contests, photo expeditions, and more. Through Wetpixel Expeditions, Eric leads regular photography expeditions and workshops around the world. He has given seminars and lectures internationally at events such as TEDx, Boston Sea Rovers Clinic, DEMA, Digital Shootouts, Kona Classic, Scuba Diving Magazine events, and others. Eric is also involved in ocean conservation, and is technical advisor and photographer for Sea Shepherd Conservation Society. He was the head photographer for Operation Musashi, Sea Shepherd's 2008-2009 anti-whaling campaign in Antarctica, which was featured in season 2 of the hit TV show, Whale Wars. Eric is also on the Board of Directors of Shark Savers, an organization dedicated to shark conservation. Caught between technical and creative worlds, Eric holds bachelor's and master's degrees in computer science from Stanford University, where he also studied classical cello performance.
KEVIN MCDONNELL

- Kevin has been making images most of his life. He has been an avid scuba diver since age 13 and has been photographing underwater for more than 40 years. His underwater and nature work has been published in many magazines for editorial and advertising purposes. His clients include National Geographic, Dive training, Skindiver Magazine, Monterey Bay Aquarium, and Northwest Diver Magazine. Kevin started Swimages in 2004 a business that photographs swimmers underwater. He believes that underwater photography is the best way to increase the awareness of the underwater world and thus aid in its protection as a resource. Kevin currently resides in Marina CA where he and his wife run the Swimages business and the McDonnell Photography Studio. To see more of McDonnell Photography please visit our sites: mcdonnellphotography.com & swimagesusa.com
MARY LYNN PRICE

- Mary Lynn is a videographer, video editor, and pioneering video podcaster based in La Jolla, California. She creates short form videos for education institutions, science, and news organizations, scuba adventure and shark diving operations, film festivals, and art galleries. Her work includes news, science, and education video packages, adventure and sports videos, exploration, historical, and art videos. Mary Lynn's work has appeared in nationally broadcast documentaries, award-winning news productions, and educational projects. Please view samples of her work on the Sample Videos page. Mary Lynn launched DiveFilm.com in early 2000 as one of the first websites dedicated to streaming underwater video on the internet. In 2005 she released the first podcast of underwater video to be featured at iTunes, DiveFilm Podcast Video. In 2007, she launched the first high definition podcast of underwater video, DiveFilm HD Video. DiveFilm Podcasts were named to the iTunes "Best of 2007 Podcasts" list, and showcase some of the best underwater short videos being created today by underwater filmmakers all over the world. In 2008, Mary Lynn deployed to Antarctica as part of a National Science Foundation grant to produce educational short video portraits of some of the amazing women working in Antarctica. In 2010 and 2011, she deployed to Antarctica to produce science communication videos about the work of the Weddell seal research team studying Weddell seal ecology in the Erebus Bay region of Antarctica's pristine Ross Sea. Mary Lynn plans to return to Antarctica in 2012 to continue this work. An Apple-certified Pro in Final Cut Pro, Mary Lynn teaches video editing and short-form video storytelling on land and at sea. She is one of the founding organizers of the San Diego UnderSea Film Exhibition.
JAY IRELAND

- Jay's innate understanding of animal behavior is a key ingredient for the success of both Bradley Ireland Productions and The Imaging Foundation. Jay's quest, to get close enough to capture the ultimate stingray image, launched Stingray City. The 1986 National Geographic story promoted friendly rays and the Wall Street Journal called Stingray City the most successful underwater attraction in the world. Logging over 2,000 dives at Cocos Island alone, Jay's photos of shark finning were used to initiate a successful campaign to protect Cocos. Later, his experience and his images were incorporated into the petition, which won the Island its UNESCO World Heritage status. Ireland's images have appeared on countless magazine covers worldwide, calendars postage stamps and lottery tickets. Jay's work with Paramount Productions won Wild Things the top rating in sweeps week. His work documenting the Humboldt Squid was showcased on National Geographic's Squid Invasion. He is a driving force behind the Imaging Foundation, and uses the power of video and production to teach about the ocean.
RUSS SANOIAN

-

Russ Sanoian is the product manager at Backscatter and a freelance underwater and nature videographer based in Monterey, California. Russ has extensive use with most of the current manufacturers video and still housings being offered in todays market. Russ has been diving closed circuit rebreathers and underwater scooters for the last 10 years and entered the industry as a lead technical sales person with Light & Motion. Russ joined Backscatter as product manager where he constantly evaluates the latest camera technology and blends imaging techniques with the art of technical diving. Russ is well known in the diving industry as a great educator and mentor of new photographers and technical divers and is always available for imaging and technical support. Russ's film credits include PBS expeditions to the Andrea Doria, CBC "The Nature of Things", DPTV "Shipwrecks of the Great Lakes", BBC "Life" series and "Million Dollar Otters", Local Television shows and several projects in the cenotes of Mexico and freshwater caves in Florida.

MARC SHARGEL

- Marc Shargel began showing his underwater photographs professionally in 1988. He had learned to dive a decade before that, while he was a student of biology and psychology at Stanford University, in 1978. Shargel spent the summer of '78 studying Marine Biology at Hopkins Marine Station in Pacific Grove, and he hasn't stopped diving since. As a teenager, he learned to develop and enlarge his own photographs, but it was the images he encountered underwater that motivated him to return to photography. Shargel has dived the California Coast from Humboldt County to San Diego. His underwater photo expeditions have taken him to such far-flung destinations as British Columbia, Mexico, Hawaii, Bali, the Caribbean, the Red Sea, and the Galapagos and Revillagigedos archipelagos.

In his decades of time spent under the sea, Marc Shargel has noticed slow but relentless decreases in marine life. In 2000 he participated in founding the first of two marine conservation organizations along California's central coast that he helped to lead. From 2004 to 2006 he served on a state panel charged with doing something that had never been done before: to protect a network of marine habitats along the central coast by mapping out a series of marine reserves no take areas to function as refuges and nurseries for everything living in our ocean. In 2007, those new marine reserves went into effect. The state's process to make the network of marine reserves state-wide moved on to other regions, and so did Shargel. He began to create coffee table books, to communicate visually to decision makers and the public exactly what the proposed areas might protect. In 2008 his first book of photography, Wonders of the Sea: North Central California's Living Marine Riches, was published. He has since published two more volumes in the series, one on Far Northern California and one on Southern California. Ironically, the last portion of the state on which he has yet to produce a book is his native Central California.

"Marine life photography began for me as a way to make my favorite moments last, to make the spectacularly colorful images I love persist. I quickly learned it was the best way to share my passion with others. Photography has now evolved into a way I can help life in the ocean communicate to humanity. Humans build with straight lines and square corners," he says, "Nature suggests graceful curves but doesn't enforce them. The living Ocean is indescribably beautiful: it must be seen. I hope my photographs will communicate some of that beauty, and motivate people to preserve it."

Marc Shargel's photographs have been exhibited at galleries and art shows throughout the San Francisco and Monterey Bay areas. He has won awards from local clubs and national and international contests. His photographs have published in books, magazines, commercial brochures, and numerous environmental publications, both online and in print. Marc is a popular presenter at dive clubs, schools and community groups. His fine art prints are shown at art events in Santa Cruz County.

Since 1984 Shargel has made his home near Santa Cruz, California, where he now lives with wife Chris and son Bodie. When he's not underwater, Marc Shargel operates Living Sea Images, a web-development and multimedia company which publishes his books and also manages sales of his stock photography and fine art prints. A line of handmade notecards bearing Marc's marine images is available on their website. All three volumes of the Wonders of the Sea series of coffee-table books, Marc's notecards, and over 7,000 of his photographs, can be seen at www.LivingSeaImages.com.