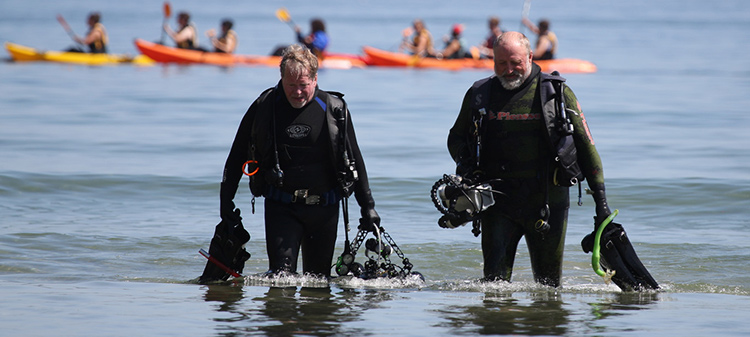 Dive by beach or boat in this 36 hour photo and video contest. Join the members of Northern California Underwater Photographic Society (NCUPS) to learn more on the best diving in Monterey or jump on one of the local dive boats. Our goal is to share the unique diving of Monterey Bay. Let us know know if you need recommendations for diving.
Backscatter
Underwater Video & Photo
225 Cannery Row
Monterey, CA 93940
phone: (831) 645-1082
VIEW ON MAP »
Monterey Institute of International Studies, McCone Building (MIIS)


460 Pierce St


Monterey, CA 93940

VIEW ON MAP »
Diving
For more information about dive charters, check out these operators:
Beach Hopper II
Dive Central Aboard The Escapade'
Sanctuary Charters
Silver Prince
Special Friday charters are available upon request, email dive operators directly as these special Friday charters are not list on most of the operators website reservation pages.
For more information about dive shops in the area, please go to:
Breakwater Dive Shop AKA: Monterey Technical
Bamboo Reef
Aquarius Dive Shop

LODGING
Diver-Friendly Accommodations:
Lone Oak Lodge, Monterey
Monterey Bay Travel Lodge, Monterey
Other Monterey Area Accommodations:
Monterey Bay Inn (across from Backscatter)
Cannery Row Inn (behind Backscatter)
Otter Inn, Monterey
Best Western - Several locations in the Monterey area
Bay Park Hotel, Monterey
Comfort Inn, Monterey Peninsula Airport
Comfort Inn, Monterey by the Sea
Econo Lodge Bay Breeze, Seaside
Econo Lodge, Monterey Fairground
Quality Inn, Munras
Quality Inn, North Fremont
Ramada Inn, Marina
Sandcastle Inn, Seaside
For More Monterey Area Lodging, please click here»