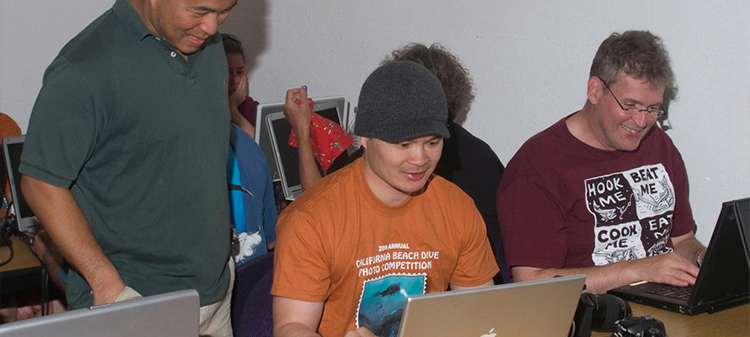 First time underwater shooters will enjoy our introductory seminars held on Friday. All skill levels will get inspired with our more advanced seminars held on Sunday. Come meet fellow enthusiasts and learn from our professional presenters.

Please see our event schedule for times and locations.
Jim Decker | Getting the most from your camera for Registered Beginners

(Registration Required: e-mail info@montereyshootout.com to secure a seat in the class)



As the CEO of Backscatter, Jim is one of the top experts in the world on underwater photo and video equipment and shooting technique. From SLRs to compacts and handycams to broadcast video, Jim has shot video and photo systems from all the major underwater manufacturers and has been a consultant on many of the designs seen in the water today. Jim has also consulted with many professional photographers, production companies, resorts, and magazines including Mythbusters, Discovery Channel, Sport Diver Magazine, Scuba Diving Magazine, Into The Drink, National Geographic, Freshwaters Illustrated, and many more.
Mike Bartick | Lightning in a bottle


Mike is a Marine Wildlife Photographer and Photo-Pro based in Anilao Philippines. He has an insatiable love for finding unique animal life, observing and photographing animal behavior and sharing his insight and knowledge with others. His curiosity and drive for first-hand experience has lead him across the globe in search of that special critter encounter.

Mike is widely published with work appearing monthly in international magazines, websites and internet publications. He also hosts photo clinics and seminars concentrating on the different aspects of Underwater Photography and the natural history of South East Asia and the Indo-Pacific. Publications include but are not limited to:
• Sport Diver
• Sport Diver Asia Pacific
• Alert Diver Magazine
• Action Asia
• UWphotographyguide.com
• Undersea Journal
• X-Ray Magazine
• Academic work includes Octopus Strangulation- Calif. Academy Science Huffard/Bartick
• Nudibranchs of the Indo-Pacific-Support team Calif. Academy of Science 2010
Mike is regarded as an expert in his field and enjoys being in the water as much as possible and agrees that the next best thing to being there, is talking about it

See some of his work at www.saltwaterphoto.com or look him up on Facebook!
Richard Salas | Lighting, stop doing what you're told and move those strobes around!

RICHARD SALAS is a California native. He graduated from Brooks Institute of Photography in 1979, where he was first introduced to diving and underwater photography. During his last year and a half of school he was mentored by Ernest Brooks II.

Richard has been working professionally in digital media for over twenty years. His unique approach to bringing out the texture and depth of his underwater subjects is informed by his years of experience lighting products and people.

He has authored three coffee table books, "Sea of Light, Underwater Photography of California's Channel Islands", "Blue Visions, Underwater Photography from the Mexican Border to the Equator" and "Luminous Sea Underwater Photography from Washington to Alaska".

Richard makes his living as a photographer in Santa Barbara, CA, where he lives with his wife Rebecca his youngest son Richard and two cats Nemo and Martin.

Richard's mission is to take the viewer through a marine biosphere where humanity's impact is an undeniable force. While many new endemic species are discovered every year, others have disappeared from it completely. The striking power of Richard's images radiates the light of unique vitality that resides in every organism he encounters.