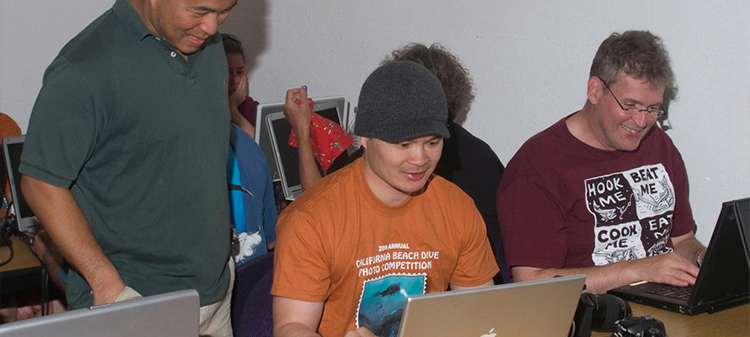 First time underwater shooters will enjoy our introductory seminars held on Friday. All skill levels will get inspired with our more advanced seminars held on Sunday. Come meet fellow enthusiasts and learn from our professional presenters.

Please see our event schedule for times and locations.
Jim Decker | Getting the Most From Your Camera

(Registration Required:e-mail info@montereyshootout.com to secure a seat in the class)

Friday Seminar
As the CEO of Backscatter, Jim is one of the top experts in the world on underwater photo and video equipment and shooting technique. From SLRs to compacts and handycams to broadcast video, Jim has shot video and photo systems from all the major underwater manufacturers and has been a consultant on many of the designs seen in the water today. Jim has also consulted with many professional photographers, production companies, resorts, and magazines including Mythbusters, Discovery Channel, Sport Diver Magazine, Scuba Diving Magazine, Into The Drink, National Geographic, Freshwaters Illustrated, and many more.
Mary Lynn Price | Intro to Video

(Registration Required:e-mail info@montereyshootout.com to secure a seat in the class)

Friday Seminar
Mary Lynn Price is a video journalist and an Apple certified pro in Final Cut Pro. She is the executive producer of the iTunes featured podcast, DiveFilm HD Video, and is a founding organizer of the San Diego UnderSea Film Exhibition. She teaches video editing and storytelling on land and at sea. Samples of Mary Lynn's work at marylynnprice.com and WeddellSealScience.com.

Mary Lynn will be focusing on video editing and storytelling, and sharing video via video sharing websites such as YouTube and Vimeo, as well as social networks like Facebook and Twitter. Whether you are a new videographer wanting to get started creating short videos to share, or an experienced videographer wanting to improve your editing and storytelling, Mary Lynn will help you take your video production skills to the next level through her fast-paced presentations and individualized assistance.
Mike Bartick | Soul Shooter

Sunday Seminar
Soul Shooter with Mike Bartick Shooting creative images for yourself, your blog, competition or for publication. A lively discussion designed to inspire shooters to explore a more creative approach to image making. Lighting, lenses, compositions and technical aspects of underwater photography and the evolution of an image.

BIO:
Mike was raised in sunny Southern California just a short distance from the shores of the Pacific Ocean. An avid diver and marine wildlife enthusiast, he turned to photography to capture and share some of his diving experiences with others. His first underwater camera was borrowed from a buddy to take on one of the frequent family trips to Hawaii. Needless to say he has never returned that camera and from that trip forward he was hooked. His obsession for photographing critters has taken him all over the world and while he admits to loving the warm waters of the tropics his first love will always be the frigid California waters. Mike's work is featured in magazines, text books, calendars and more and can be found worldwide. He is a small animal expert that frequently leads groups of photographers into Asia to seek out that special critter.
Jason Bradley | Stop Shooting the Damn Fish!

Sunday Seminar
Stop Shooting the Damn Fish! with Jason Bradley Underwater photography is more than just learning some settings, pointing your strobes, and hitting the shutter; It's more than simply documenting the fish, and your dives as you go. Don't miss this rare workshop at the Monterey Shootout as Jason Bradley talks about the distinction between simple fish photos and making underwater photographic art. Visualization, Composition, Camera Settings, Lighting, and raw developing all play a role in creating compelling, thought provoking, and Shootout winning work.


BIO:
Jason Bradley has a unique set of skills. He specializes in nature and wildlife photography both underwater and above; he's the owner and operator of Bradley Photographic Print Services—a fine art print lab; he leads photographic expeditions around the world, he is the author of the book Creative Workflow in Lightroom, published by Focal Press, and is a blogger for Outdoor Photographer Magazine. Visit Jason's site to see more of his work, to learn about fine art printing, and find info on his upcoming workshops and expeditions.