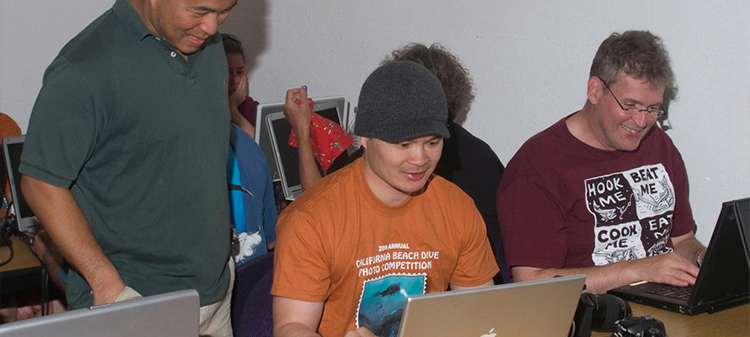 First time underwater shooters will enjoy our introductory seminars held on Friday. All skill levels will get inspired with our more advanced seminars held on Sunday. Come meet fellow enthusiasts and learn from our professional presenters.

Please see our event schedule for times and locations.
Jim Decker | Getting the Most From Your Camera

(Registration Required:e-mail info@montereyshootout.com to secure a seat in the class)

Friday Seminar - 9:00

A.M.

- 10:00

A.M.


As the CEO of Backscatter, Jim is one of the top experts in the world on underwater photo and video equipment and shooting technique. From SLRs to compacts and handycams to broadcast video, Jim has shot video and photo systems from all the major underwater manufacturers and has been a consultant on many of the designs seen in the water today. Jim has also consulted with many professional photographers, production companies, resorts, and magazines including Mythbusters, Discovery Channel, Sport Diver Magazine, Scuba Diving Magazine, Into The Drink, National Geographic, Freshwaters Illustrated, and many more.
Matt Ferraro | Intro to Video

(Registration Required:e-mail info@montereyshootout.com to secure a seat in the class)

Friday Seminar - 10:00

A.M.

- 12:00

P.M.


Matt Ferraro has been the lead cinematographer for the Cousteaus for the last 15 years. From the tannin brown waters of the Amazon to the crystal blue below Arctic ice, Matt has documented stunning wildlife behavior and the Cousteau team in every corner of the Earth. Matt's camera experience is as diverse as his travels. Matt cut his teeth on 35mm motion picture film, progressed through all professional video formats and is an expert with the latest digital cinema cameras such as the 6K Red Dragon. Matt's long list of credits includes the award winning 11 hour seven-episode PBS series Ocean Adventures and the record breaking Mission 31. As a deep tech and closed circuit rebreather diver, Matt documented the rarely visited wreck of the USS Monitor, was the part of the first team in 19 years to touch down on Cordell Bank and was one of the first to record the twilight reefs of the Northwester Hawaiian Islands. While continuing production work and his passion for ocean conservation, Matt is currently employing his hard won skills in a newly created position for him at Backscatter Underwater Video & Photo as Resident Cinematographer.

Mike Bartick | TBD

Sunday Seminar - 9:00

A.M.

- 10:30

A.M.



BIO:
Mike was raised in sunny Southern California just a short distance from the shores of the Pacific Ocean. An avid diver and marine wildlife enthusiast, he turned to photography to capture and share some of his diving experiences with others. His first underwater camera was borrowed from a buddy to take on one of the frequent family trips to Hawaii. Needless to say he has never returned that camera and from that trip forward he was hooked. His obsession for photographing critters has taken him all over the world and while he admits to loving the warm waters of the tropics his first love will always be the frigid California waters. Mike's work is featured in magazines, text books, calendars and more and can be found worldwide. He is a small animal expert that frequently leads groups of photographers into Asia to seek out that special critter.
Erin Quigley | Post Production for Good and Evil

Sunday Seminar - 11:00

A.M.

- 12:30

P.M.



SEMINAR DESCRIPTION:
How far is it fair to go when when editing underwater images? How do you know where to draw the line? In this seminar, Erin explores the boundaries of post-production with Lightroom and Photoshop, using techniques both good and evil, developed specifically for underwater shooters. Some are clean and simple, some downright dirty, but all of them are essential for any post-production bag of tricks - as long as you know when to stop.

BIO:
Erin Quigley is a Adobe ACE certified imaging expert specializing in Adobe Photoshop and Lightroom. She is an award-winning underwater photographer, and creator of GoAskErin.com, which provides resources and training specifically developed for underwater shooters. Erin leads trips and teaches workshops worldwide, and currently writes the Imaging Training column for Scuba Diving magazine.