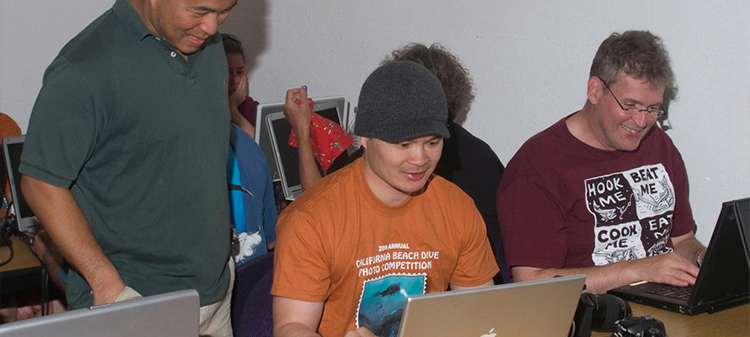 First time underwater shooters will enjoy our introductory seminars held on Friday. All skill levels will get inspired with our more advanced seminars held on Sunday. Come meet fellow enthusiasts and learn from our professional presenters.

Please see our event schedule for times and locations.
Ethan Daniels

- Creativity & Simplicity Underwater Using undemanding techniques to achieve imaginative imagery.

The varied challenges and possibilities of shooting underwater can be overwhelming to any photographer. This seminar will concentrate on how to achieve original wide angle and macro images while using a basic dSLR setup. Through the detailed back-stories recent images from temperate and tropical locales, Ethan will go over the situations and technical aspects of how novel photographs were created and how any photographer can produce unique results.

Ethan Daniels is a freelance marine photojournalist and dive guide currently based in Northern California. Annual travels take him all over the planet, from the rich, temperate waters of the northern Atlantic and the eastern Pacific, to the warm, diverse Coral Triangle and Caribbean Sea. Having spent his youth on the shores of Cape Cod, Ethan became fascinated with the bizarre marine life that thrives beneath the water line. He studied biology at Bucknell University and completed graduate school at the University of Guam Marine Laboratory in 1999, focusing on the behavioral ecology of reef fishes. Ethan spent nine years living in Micronesia, studying and photographing the region's unique marine habitats, flora and fauna. Favoring parts of the world that are off-the-beaten-track, he currently combines his passions for natural history and photography to guide, write, and run photographic workshops. Ethan's latest work can be found at OceanStockImages.com and his first solo-authored book, Under Cape Cod Waters, published in 2010 by Union Park Press, is now on bookshelves and available online. His second book, Coral Triangle Seascapes, was published by Asian Geographic in 2012. Ethan's latest endeavor is his first ebook, Marine Life and Natural History of the Coral Triangle, with co-author and biologist Lee Goldman, which is due out October 2014.
Mary Lynn Price | Introduction to Video Workflow Seminar for Registered Video Participants

(Registration Required: e-mail info@montereyshootout.com to secure a seat in the class)

Mary Lynn is a videographer, video editor, and pioneering video podcaster based in La Jolla, California. She creates short form videos for education institutions, science, and news organizations, scuba adventure and shark diving operations, film festivals, and art galleries.

Her work includes news, science, and education video packages, adventure and sports videos, exploration, historical, and art videos. Mary Lynn's work has appeared in nationally broadcast documentaries, award-winning news productions, and educational projects. Please view samples of her work on the Sample Videos page.

Mary Lynn launched DiveFilm.com in early 2000 as one of the first websites dedicated to streaming underwater video on the internet. In 2005 she released the first podcast of underwater video to be featured at iTunes, DiveFilm Podcast Video. In 2007, she launched the first high definition podcast of underwater video, DiveFilm HD Video. DiveFilm Podcasts were named to the iTunes "Best of 2007 Podcasts" list, and showcase some of the best underwater short videos being created today by underwater filmmakers all over the world.

In 2008, Mary Lynn deployed to Antarctica as part of a National Science Foundation grant to produce educational short video portraits of some of the amazing women working in Antarctica.

In 2010 and 2011, she deployed to Antarctica to produce science communication videos about the work of the Weddell seal research team studying Weddell seal ecology in the Erebus Bay region of Antarctica's pristine Ross Sea. Mary Lynn plans to return to Antarctica in 2012 to continue this work.

An Apple-certified Pro in Final Cut Pro, Mary Lynn teaches video editing and short-form video storytelling on land and at sea. She is one of the founding organizers of the San Diego UnderSea Film Exhibition
Jim Decker | Getting the most from your camera for Registered Beginners

(Registration Required: e-mail info@montereyshootout.com to secure a seat in the class)



As the CEO of Backscatter, Jim is one of the top experts in the world on underwater photo and video equipment and shooting technique. From SLRs to compacts and handycams to broadcast video, Jim has shot video and photo systems from all the major underwater manufacturers and has been a consultant on many of the designs seen in the water today. Jim has also consulted with many professional photographers, production companies, resorts, and magazines including Mythbusters, Discovery Channel, Sport Diver Magazine, Scuba Diving Magazine, Into The Drink, National Geographic, Freshwaters Illustrated, and many more.
| | | |
| --- | --- | --- |
| All Competitors get into the Seminars for Free | FREE | FREE |
| Sunday Seminars Guest Pass | $10 | $15 |
| | | |