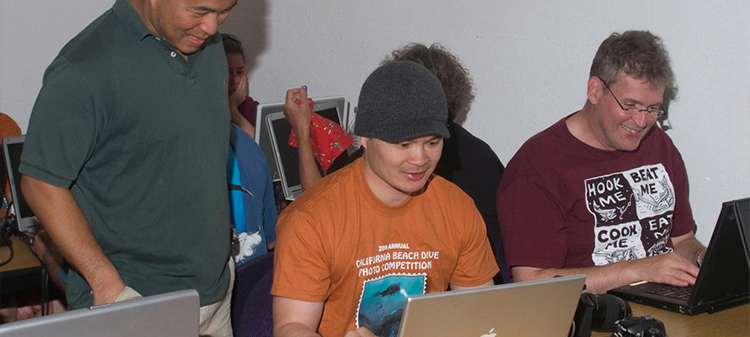 First time underwater shooters will enjoy our introductory seminar held on Friday. All skill levels will get inspired with our more advanced seminars held on Sunday. Come meet fellow enthusiasts and learn from our professional presenters.
Please see our event schedule for times and locations.

Getting the Most From Your Camera for Registered Beginners

JIM DECKER

- As the CEO of Backscatter, Jim is one of the top experts in the world on underwater photo and video equipment and shooting technique. From SLRs to compacts and handycams to broadcast video, Jim has shot video and photo systems from all the major underwater manufacturers and has been a consultant on many of the designs seen in the water today. Jim has also consulted with many professional photographers, production companies, resorts, and magazines including Mythbusters, Discovery Channel, Sport Diver Magazine, Scuba Diving Magazine, Into The Drink, National Geographic, Freshwaters Illustrated, and many more.

Introduction to Video Workflow

MARY LYNN PRICE

- Mary Lynn is a videographer, video editor, and pioneering video podcaster based in La Jolla, California. She creates short form videos for education institutions, science, and news organizations, scuba adventure and shark diving operations, film festivals, and art galleries. Her work includes news, science, and education video packages, adventure and sports videos, exploration, historical, and art videos. Mary Lynn's work has appeared in nationally broadcast documentaries, award-winning news productions, and educational projects. Please view samples of her work on the Sample Videos page. Mary Lynn launched DiveFilm.com in early 2000 as one of the first websites dedicated to streaming underwater video on the internet. In 2005 she released the first podcast of underwater video to be featured at iTunes, DiveFilm Podcast Video. In 2007, she launched the first high definition podcast of underwater video, DiveFilm HD Video. DiveFilm Podcasts were named to the iTunes "Best of 2007 Podcasts" list, and showcase some of the best underwater short videos being created today by underwater filmmakers all over the world. In 2008, Mary Lynn deployed to Antarctica as part of a National Science Foundation grant to produce educational short video portraits of some of the amazing women working in Antarctica. In 2010 and 2011, she deployed to Antarctica to produce science communication videos about the work of the Weddell seal research team studying Weddell seal ecology in the Erebus Bay region of Antarctica's pristine Ross Sea. Mary Lynn plans to return to Antarctica in 2012 to continue this work. An Apple-certified Pro in Final Cut Pro, Mary Lynn teaches video editing and short-form video storytelling on land and at sea. She is one of the founding organizers of the San Diego UnderSea Film Exhibition.
Diving into the Digital Darkroom - Essential Post Processing for Underwater Photographers &
Photoshop - The Dark Side. Dirty tricks you need to know

ERIN QUIGLEY

- Erin Quigley is a Adobe ACE certified digital imaging consultant specializing in customized workflows and editing strategies using Adobe Photoshop and Lightroom. She is an award-winning underwater photographer and video editor, and creator of GoAskErin.com, which provides custom tutorials and one-on-one instruction specifically developed for the underwater photographic community. She has just been added to the membership roster of the Ocean Artists Society. She is a regular presenter at schools and dive organizations, and along with her private consulting business, runs the Go Ask Erin digital help desk online and at The Digital Shootout. For more information, please visit: GoAskErin.com.


| | | |
| --- | --- | --- |
| All Competitors get into the Seminars for Free | FREE | FREE |
| Sunday Seminars Guest Pass | $10 | $15 |
| | | |